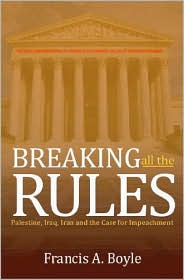 Breaking All the Rules: Palestine, Iraq, Iran and the Case for Impeachment
by
Francis Anthony Boyle
When it comes to the prospect of war and global hopes for peace, no issues are more germane than the Israeli occupation of Palestine, and the role of George W. Bush in the invasion of Iraq-and few are better qualified to address them than international legal expert, Francis A. Boyle.
Boyle is a former legal advisor to the Palestinian delegation to the Middle East peace negotiations from 1991 to 1993. In an effort to halt the invasion of Iraq in 2003, along with colleague Ramsey Clark, he put forward draft articles for the impeachment of President George W. Bush for lying to Congress in leading the nation to war-the first of a long series of initiatives seeking Bush's impeachment. This book compiles the proceedings of the 18th Annual Bertrand Russell Peace Lectures delivered by Francis Boyle at the Centre for Peace Studies at McMaster University in January of 2007, titled "The Legacy of Bertrand Russell: Principle Confronting Power." It is updated here to the October 17th, 2007 press conference in which George W. Bush terrorized the world with the prospect of World War III if the Iranian government were to acquire even the knowledge of how to make nuclear weapons.
Francis Boyle brings an insider's view to the issues of Palestinian rights under international law, and to the case for the impeachment, and the current status and prospects for each. He raises serious questions concerning where the Bush Administration is leading America, with its lies, its pre-emptive wars, its domestic signing statements overriding the will of Congress, and its abrogation of international law and its constitutional obligations. Previous Russell Lecturers have included E.P. Thompson, Elena Bonner,Edward Said, Ramsey Clark, Nobel Peace Prize Winner Joseph Rotblat, Johan Galtung, and Noam Chomsky.

About the Author:
Francis A. Boyle is a leading American expert in international law